UPCOMING EVENTS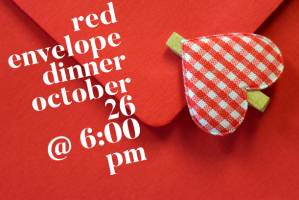 RED ENVELOPE FUNDRAISER

"HEARTS ON FIRE"

Saturday, October 26, 2019 @ 6:00 pm
Come and enjoy an authentic Italian dinner of Ziti Bolognese, Mixed Salad, and Garlic Bread prepared by our own Pastor Jim. (And dessert of course!)

While dining, and enjoying our fellowship, we will host our fundraising endeavor: "Hearts on Fire" Red Envelope Dinner.

There is no cost for the meal! Why?

Well, remember the words of Luke's Gospel, when the two disciples on the way to Emmaus finally recognized Jesus only after they had sat down at table, and Jesus had broken the bread! The one disciple remarked to the other: "Were not our hearts burning within us, as he walked with us on the way?" (Luke 24:32) As we come together to break bread we also come to share our deep love for our church and discover why our hearts burn within us when we reflect on the many years of faithful discipleship lived out in First UMC Ansonia. How does this all work?

There will be 50 red envelopes displayed on a board in fellowship hall.

Each envelope will be marked with a number from #1 to #100. The number displayed on each envelope corresponds to that figure's dollar amount. (For example, #2 = $2.00, and #30 = $30.00 and so on.)

Each church member is invited to take one (or even more than one) envelope in which they would place the dollar amount of that chosen envelope(s).

What happens in the end? Well, if all 50 envelopes are filled, the church will gain $1,275.00 in fundraising profit. Please feel free to bring along a friend or family member. There is absolutely NO expectation that your friends or family take an envelope! We would simply like to offer them an experience of who we are as a church of committed believers in Jesus Christ. We just want to have them over for dinner! Who knows, maybe our church home will be the perfect place for them to call home as well!
Come out and experience our brand new fundraising endeavor!

There are many different themed baskets that can make excellent Christmas gifts

Doors will open at 4:00 PM and everyone can peruse and decide which basket to bid on

At 5:00 PM winners will be announced!
UA-82672647-1